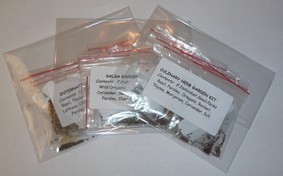 Culinary Assorted Herb Seed Pack
Basil, Dill, Parsley, Oregano, Thyme, Rocket, Marjoram, Savory. There are enough seeds in each pack to grow a lush herb garden or for successive plantings. Grow fresh, healthy herbs packed with vitamins and minerals and have them at hand every time you cook all year round. All seed varieties are individually packed in resealable bags, seed count is generous. Seeds are Australian grown open pollinated, organic and certified organic, non GMO. Growing Info included.
Sowing instructions and recipes included.