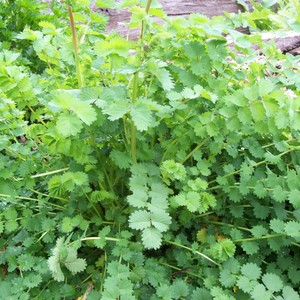 Have you tried Salad Burnet?
I have been growing this herb for many years, since it was a rare/unusual herb in Australia, and it is still not generally grown. This hardy plant is a perennial that will return year after year. The young fern-like leaves of this herb have a delicious fresh cucumber flavour, which make it a perfect addition to salads, and various dishes from herb butter, cheese spread for sandwiches and crackers to egg dishes, fish dishes, soups, as a dressing infused in good quality wine vinegar, white sauce, and iced drinks. Burnet combines well with Rosemary and French Tarragon. An old Italian proverb proclaims - 'L' insalata non e buona ne bella, ove non e la pimpinella' - which means, 'Salad is neither good or pretty without Burnet' (pimpinella being an Italian name for burnet)
Burnet grows well in containers and is a general companion plant, like borage, and can be planted to help heal over-used soil. Mint provides a good ground cover for more moisture and Thyme helps plants thrive and attracts more pollinators.
This plant forms a clump that can easily be divided to transplant elsewhere. The clusters of white and pink flowers will eventually dry into seeds you can collect, simply let the plant self-seed.
Want more good reasons to grow this herb? Burnet's astringent properties work well in an infusion to make a facial wash for sunburn and troubled skin. The stem and leaves are known to be a source of rutin, quercetin, kaempferol. These flavonoids are plant sterols that are known to have antioxidant properties, as they help neutralize disease causing free radicals; and are anti-inflammatory. Another constituent of salad burnet is beta-sitosterol; thought to reduce LDL cholesterol.
NOTE: The above is information only, and is NOT intended as medical advice.