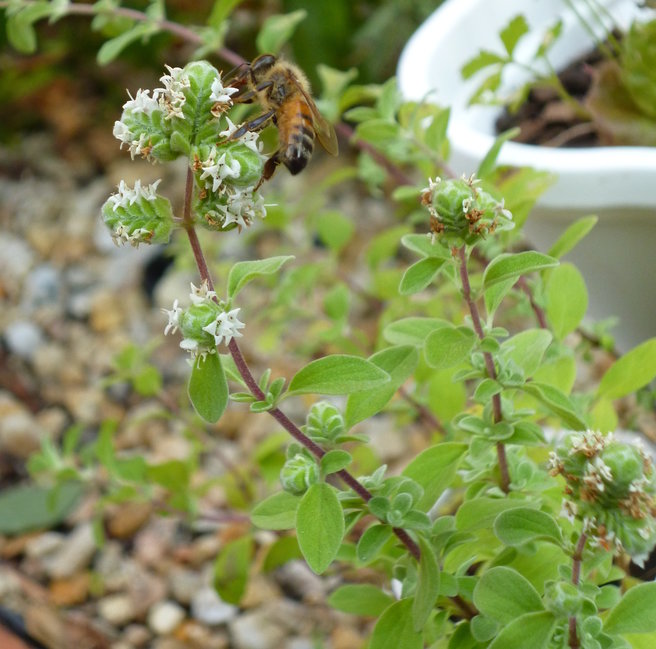 A perennial herb with spicy sweet aroma (I can never walk past a plant without pinching off a leaf or two) and flavour and greyish-green leaves, Marjoram is indigenous to Cyprus and southern Turkey, and was known to the Greeks and Romans as a symbol of happiness.

A n easy to grow herb, ideal for the novice gardener, Sweet Marjoram will produce a steady supply of new growth if it is regularly harvested or trimmed back. Marjoram has a more mild, sweet flavour than oregano, and this flavour more than justifies growing this herb for cooking. Grow in a pot on a light filled windowsill, or in containers and baskets on your sunny balcony or patio. Good drainage is necessary, if using pots or baskets, add a layer of small pebbles or gravel to aid drainage, especially if they are outdoors. It does well and looks great in our colourful Stack-A-Pots Planters combined with compatible Thyme, Oregano, Summer Savory and Parsley. Marjoram has a slightly straggly growing habit, pinch off any flower buds if you prefer more shrubby plants. Cut back and fertilise plants lightly after flowering to rejuvenate. The white flowers are attractive to bees, other beneficial insects and birds.
Use it in any Mediterranean style, tomato-based dishes, with potatoes and other vegetables, eggs and cheese dishes. Add savoury flavour to cream-based sauces or soups, especially potato soup, and to herb butter, herb vinegars and oils. The fresh taste of Marjoram goes well with delicate fish, white bean dishes, pesto, or liven up roast chicken.
In ancient Greece and Rome, bridal couples wore wreaths of Marjoram on their heads as crowns, and these symbolized love, honour and happiness.