Bush Basil is a warm season annual, and is a fairly low maintenance herb plant.
This variety is quiet easy to grow provided a minimum level of care is provided throughout the year.
A compact plant, it is well suited to container gardens, perfect for pots on light filled windowsills or patios, makes an attractive and fragrant garden border, and does well in outdoor garden beds. Spicy Bush Basil is used as a companion plant to Parsley, Oregano, Capsicum, Lettuce and is said to improve the flavour of Tomatoes and repel insect pests. Regular cutting and/or pinching out encourages bushy rounded plant.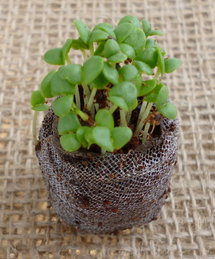 Although we tend to associate it with Italy and other Mediterranean countries, it actually originated in India, and was brought to the Mediterranean via the spice routes in ancient times. In India, Basil was cherished as an icon of hospitality, while in Italy, it was a symbol of love. One of the most popular culinary herbs, it features in varied cuisines throughout the world including Italian, Thai, Vietnamese and Laotian. Most famous as the main ingredient in classic Pesto, also use fresh Basil in salads, soups, marinades, and to flavour oils and vinegars.
Classic Pesto
2 cups fresh Basil leaves
1/4 cup extra virgin olive oil
1/4 cup pine nuts
2 cloves garlic, chopped
1/4 cup freshly grated Parmesan cheese
1/4 cup freshly grated Pecorino
1 teaspoon coarse salt or to taste
Combine Basil, oil, nuts and garlic in food processor, pulse/blend until a paste forms, scraping down sides of processor frequently. Add both the cheeses and salt, pulse/blend until smooth. Transfer to small bowl, top with a thin layer of olive oil and toasted Pine nuts and chill before serving if preferred.