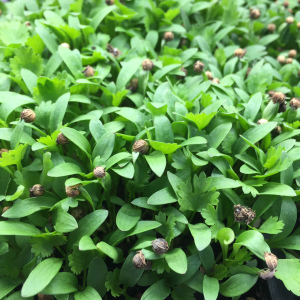 Fresh Coriander (Coriandrum sativum) leaves have a pungent, citrusy flavour that some people enjoy and others detest (me being one)
In fact, its name is actually derived from the Greek word for bug as they thought that is smelt like one that had been squashed! The seeds are quite round like tiny balls. They lose their disagreeable scent on drying and become fragrant- the longer they are kept, the more fragrant they become.
Coriander is a bi-annual plant, requires little maintenance, will grow anywhere in Australia, and does well in containers. All parts of this herb is used, from seeds to leaves, stems and roots. The leaves are used in Asian and Mexican dishes for spicy flavour, the roots included in dishes with a longer cooking time. Coriander seed is usually powdered and used in both sweet and savoury dishes. Peruvians love this herb so much that it is used in almost all their dishes, often making the taste objectionable to others.
There are several varieties of coriander. The most common is especially grown for it's dark green foliage and good pungency and, in some cases, is a slow bolt strain making it longer lasting. Slow bolt coriander will grow to about 60 centimetres tall. There are also varieties grown just to harvest the seed for cooking as they have less leaf and will bolt very quickly to produce flower heads. Coriander likes lots of light but cannot tolerate heat, plant or place pots in an area that gets plenty of shade in Summer. Harvest frequently and pinch out any flower buds to prevent plant going to seed / bolting.
Coriander was originally introduced from the East, being one of the herbs brought to Britain by the Romans. As an aromatic stimulant and spice, it has been cultivated and used from very ancient times. It was employed by Hippocrates and other Greek physicians. Coriander contains a wide variety of vitamins and minerals, particularly Vitamins A and C. Among it's many benefits, Coriander is said to aid digestion, prevent nausea, and have anti-allergic properties.
This herb with its delicate white flowers will attract many beneficial insects including bees, and is an ideal companion plant, particularly for beans and peas. Seed in our Herb Garden Kits is a Certified Organic, slow bolting variety.
Fresh Coriander is a natural ingredient for this Summery and delicious Salsa.
Coriander Salsa with Lime and Coconut
1 teaspoon Cumin seeds
6 Spring Onions, white and light green parts only, chopped
2 small Garlic cloves
1 to 2 Cherry Chillis, chopped, seeded for less heat if preferred
3 cups loosely packed Coriander leaves
1/4 cup freshly squeezed Lime juice
2 tablespoons shredded fresh Coconut
Pepper and salt to taste
1 teaspoon olive oil
Sprig of Coriander
Heat cumin seeds in a small pan over medium heat until toasted and aromatic, about 3 minutes. Let cool slightly, then crush lightly with the side of a knife. Pulse/process onions, garlic, and chillis until finely chopped, about 10 seconds. Add coriander, crushed cumin, lime juice, coconut, salt, and 1 tablespoon oil; pulse lightly to form a coarse paste, adding water or extra lime juice if required. Spoon into serving bowl sprinkle with remaining oil and top with Coriander sprig. Serve at room temperature.